4/18/23
GRANT WINS BRISTOL! After qualifying in the top five with Y-Lee. On a late caution Grant stays out on older tires to win at Bristol. Its called the McDADDY move. LOL Also Randy and Maverick finished in the top ten.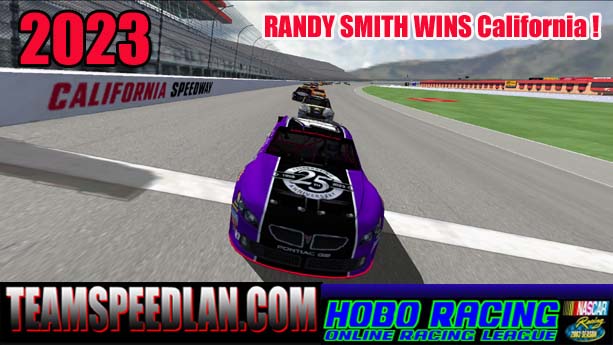 2/28/23
Strong showing for most of Team SpeedLan With RANDY SMITH Winning the 2ND race of the season at HOBO Racing by taking California! Some of us were in the right spot for a good finish, like Steve in the #11 car getting 3RD place. And some on the team not having good luck at the end of the race, all though having good race cars.

2/21/23
Team SpeedLan is happy to announce that Chris Rogers "Maverick" has joined the Team! SpeedLan has been racing with him for 10 years at HOBO Racing League and has enjoyed his racing style and friendship over the years.
2/7/23
Steve Locks in the 2022 Winter Series!
1/17/23
Y-Lee gets it done at California with a very strong car. Great Win! Randy starts the race from the Pole with most of the team finishes in the top five. Good Race!
12/6/22
Steve's has good luck at Vegas in the Winter HOBO Racing.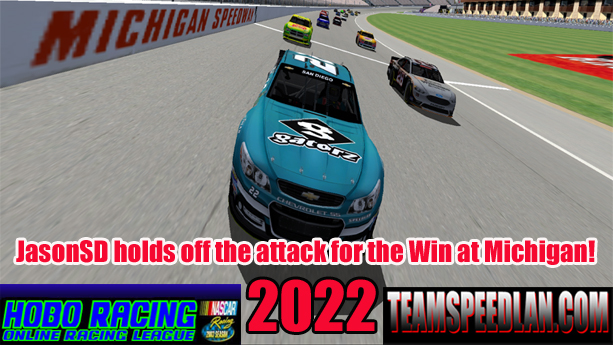 8/9/22 JasonSD Wins Michigan! But not so good for the rest of the Team at HOBO Racing.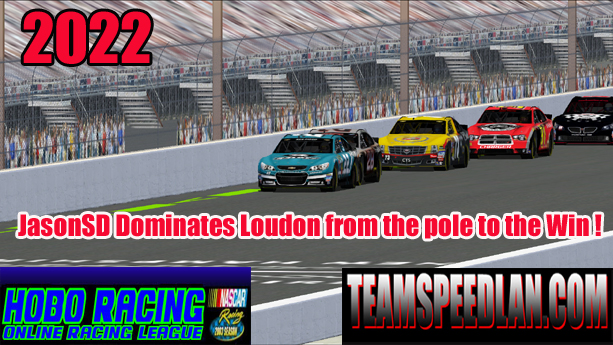 7/19/22 JasonSD Wins Loudon from the pole. Also runs the fastest lap in the race.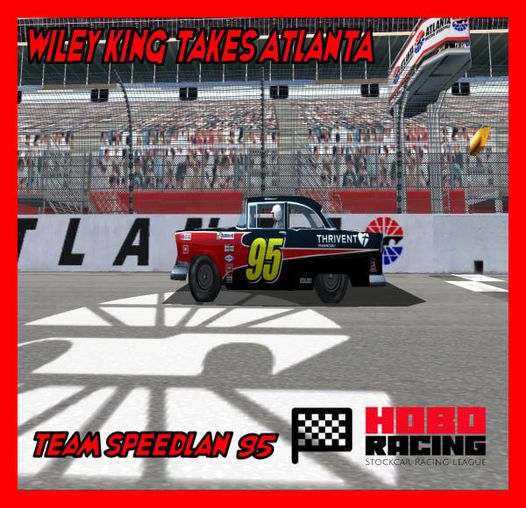 12/21/21 Y-Lee WINS Atlanta at HOBO's Winter season on 1955 MOD.
12/14/21 JasonSD WINS Richmond at HOBO's Winter season on 1955 MOD. And Y-Lee gets the pole.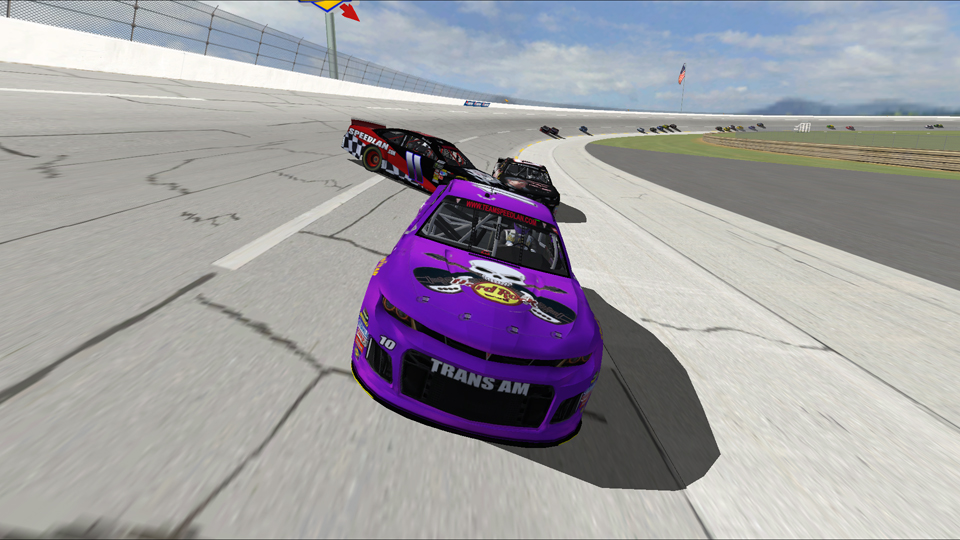 5/10/19 Randy WINS Talladega! Randy would be the first to put a win on Team SpeedLan's page for 2019 at HOBO's racing league. Steve who was running in 2ND would be bumped out of that position on the last lap.

11/20/18 Steve WINS Homestead! Steve was in the right spot for a change and capitalized on the 13 and 73 car as they wrecked. Randy would finish in 4TH place with Bob and Y-Lee showing a good run. JasonSD had bad luck getting caught up in a wreck early in the race.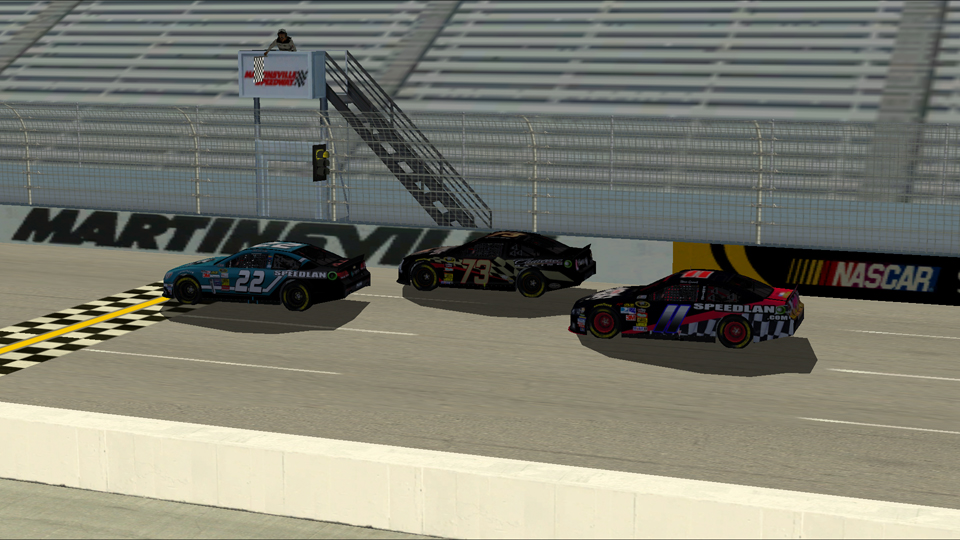 10/30/18 JasonSD WINS Martinsville by being in the right spot at the right time. JasonSD ran the whole race in the top five and was in position to take advantage of opportunities that where presentenced to him in the last re-start, with five to go. SPEED would end up in 3RD and Randy in 6TH. Y-Lee and BOB didn't make the race this week but will be back next week. The points are very close as we near the end of the 2018 season.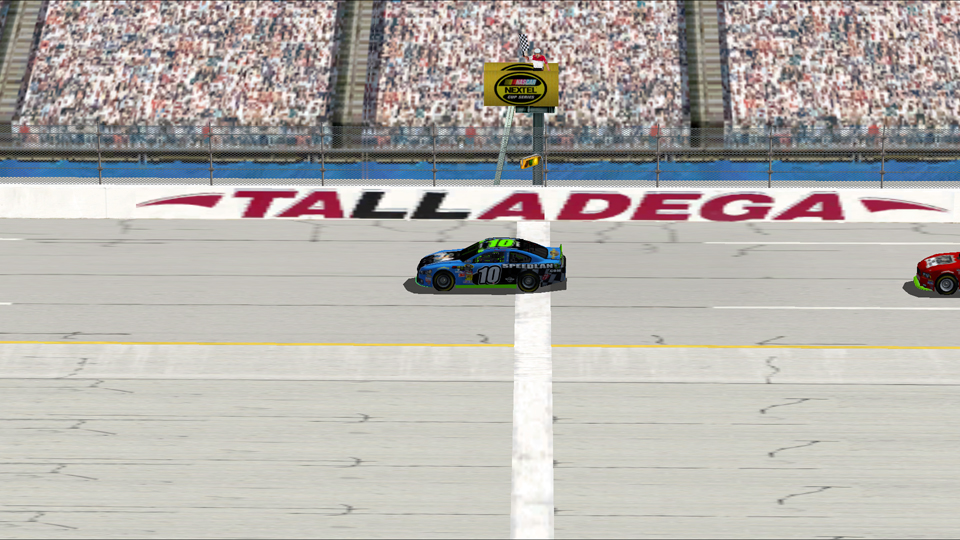 10/16/18 Randy WINS Talladega from the pole.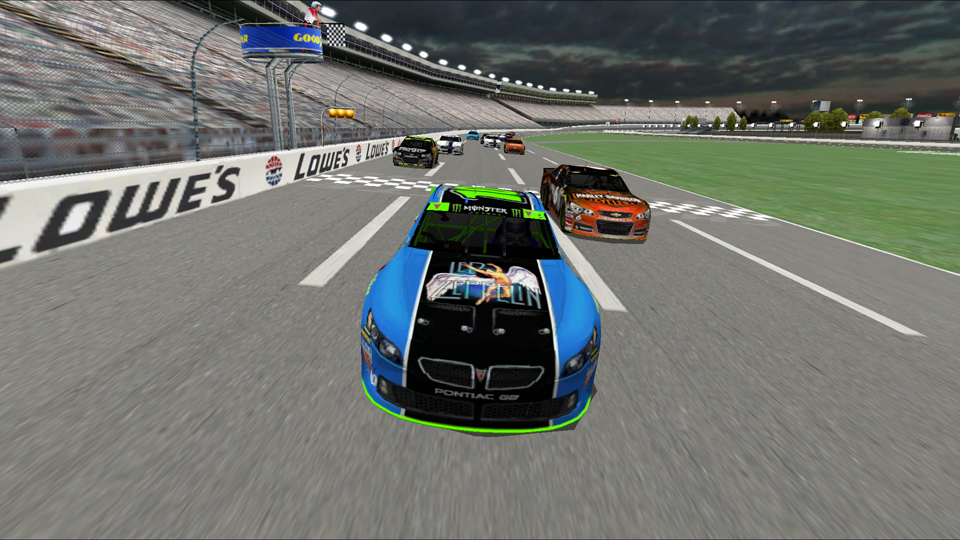 10/2/18 Randy wins Charlotte on a two tire stop. The rest of the Team gets caught up in the big wreck at the end.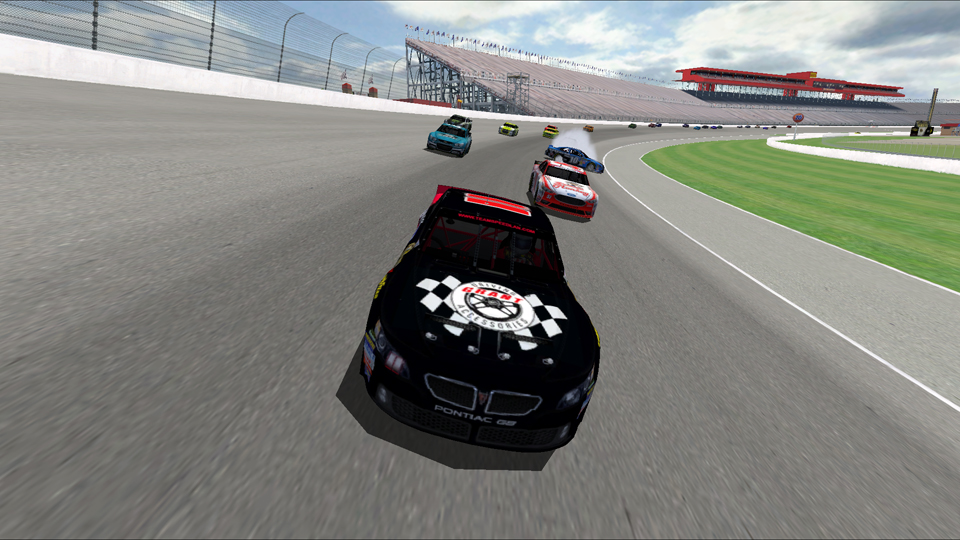 3/20/18 Steve wins California at HOBO racing with JasonSD in 3RD place. Randy would get bumped in turn one with two laps to go. Bob would hit Randy as he spun down the track. If Bob had missed Randy he would have finished in 7TH place. Y-Lee also got caught up in that wreck too and didn't finish to well.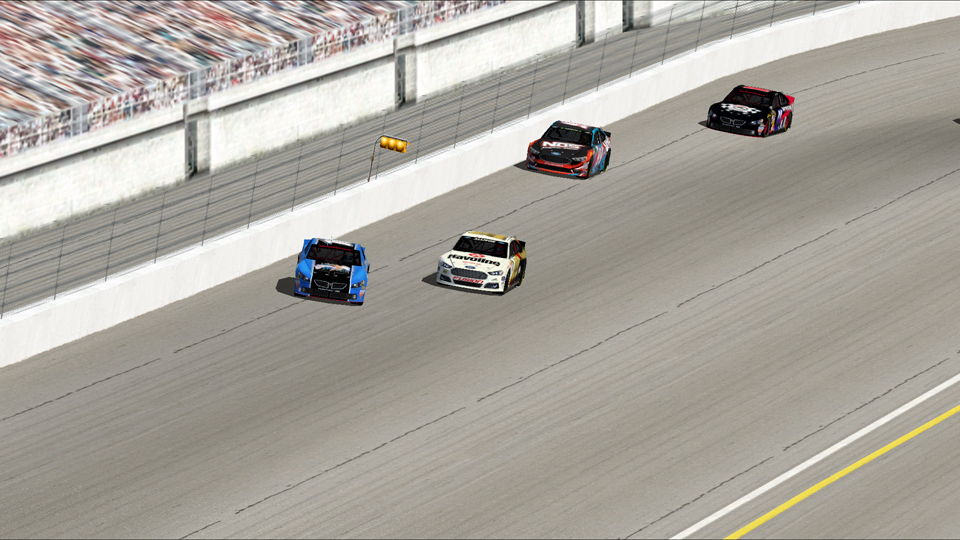 3/6/18 Looked like Randy was going to win the race at Las Vegas but got loose with two laps to go. Steve would finish in 2ND place for the night and Bob has some more bad luck, after
running in 16TH place most of the night. Y-Lee and JasonSD did not make the race this week.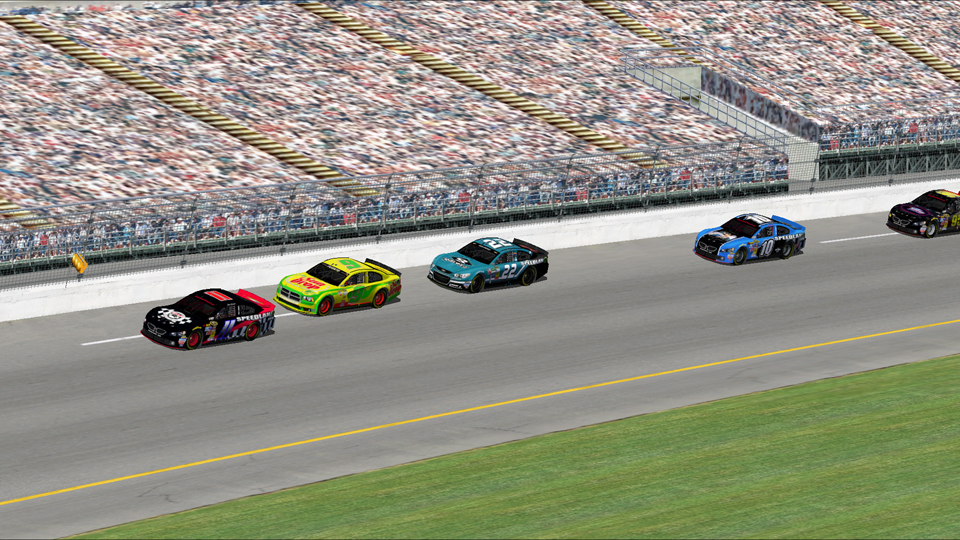 2/20/18 If you were a betting man, who would you bet too win the HOBO 2018 Daytona 500 race with only two laps to go and 4 teammates in the top five??? YOU WOULD BE WRONG.
This years Speed Week has been good for the team, but no wins. Steve would finish in 2ND place in both HOBO Daytona 500 and F.A.S.Trak 500 race. This would be a strong start to the 2018 race season. After winning the 2017 Championship at HC-RB racing league and finishing 5th place points at HOBO's 2017 Cup race season. Randy would finish 3RD in the points at HOBO last year and JasonSD would finish in 2ND place at HC-RB last year and 6TH place points at HOBO. Y-Lee will be running full time with us at HOBO, With Bob Gibson starting to race with us at HOBO too. Looing forward to the whole team racing at HOBO this season. Bob finished in 6TH place in the points last year at HC-RB racing league with a long hiatus from racing. Bob didn't have the best luck this year at the 2018 HOBO Daytona 500 race. But it is a big adjustment running with large numbers of other drives. This years first race at HOBO started with 38 drives. Looking forward to the rest of the season.
10/01/17 JasonSD wins Charlotte . With Steve in 2ND place.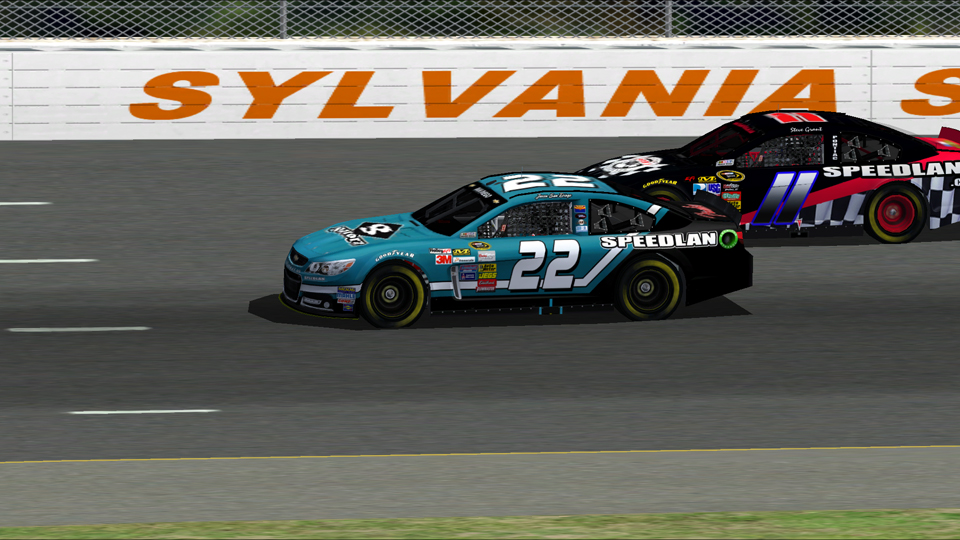 9/24/17 JasonSD wins Loudon. With Steve in 2ND place from the pole.
9/17/17 RANDY wins Chicagoland. With BOB in 3RD, JasonSD in 4TH and STEVE in 5TH place.
9/10/17 STEVE gets the chrome bumper put to him with 4 laps to go. RANDY was in the right spot at the right time to win Richmond.
8/27/17JasonSD WINS DARLINGTON! And leads the most laps too. Steve finishes in 2ND place.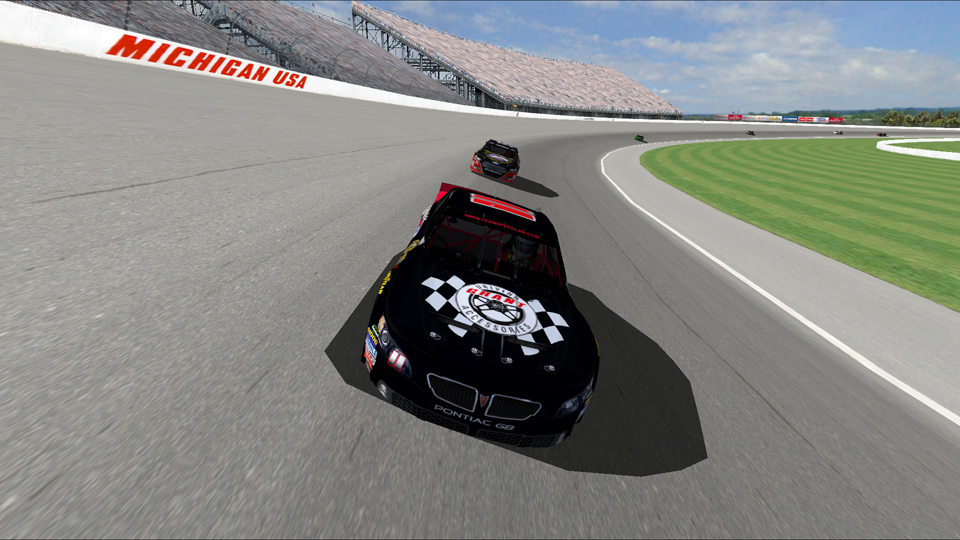 8/13/17 STEVE WINS MICHIGAN! with five laps to go. BOB has a strong car and finishes in 3RD place.
7/30/17 JasonSD WINS POCONO! With a strong car, leading 60 of a 70 lap race. Steve finishes in 2ND place.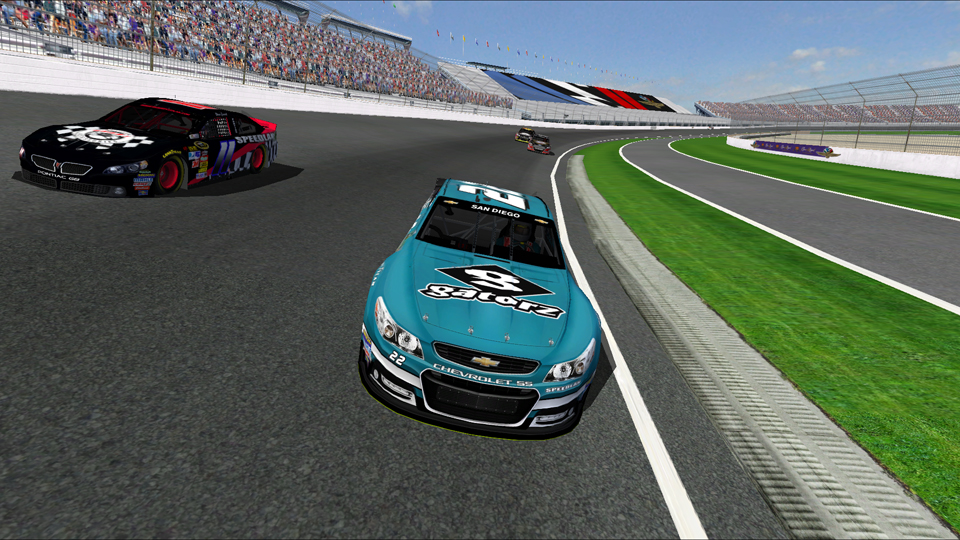 7/23/17 JasonSD WINS INDY! With Steve in 4TH after JasonSD gets by with 3 laps to go. Y-Lee gets caught up in a wreck while running in 2ND place.
7/16/17 STEVE WINS LOUDON from the pole! With JasonSD getting disconnected from the race, it make it easy for Steve to win.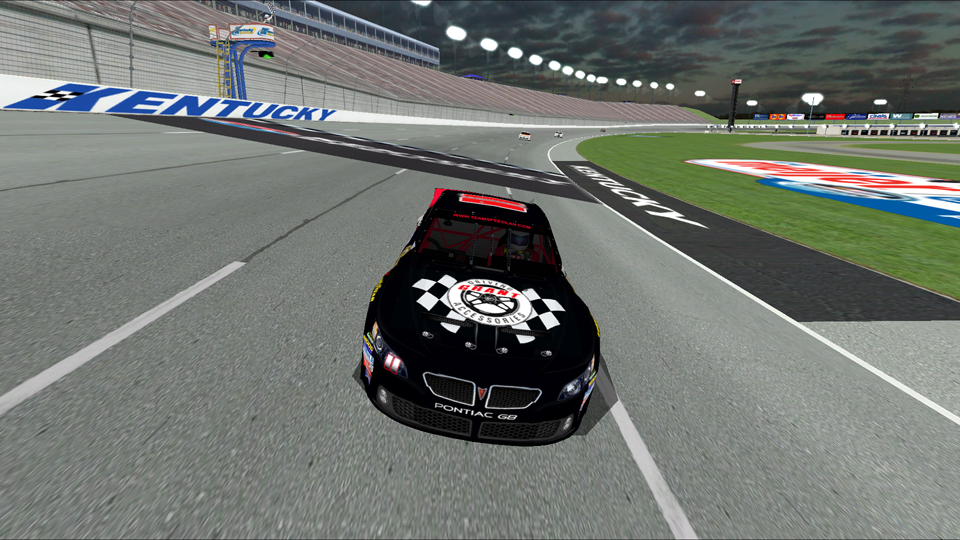 7/8/17 STEVE WINS Kentucky! With some go long green runs. Holding off the 87 car as he charged to the front in the late laps.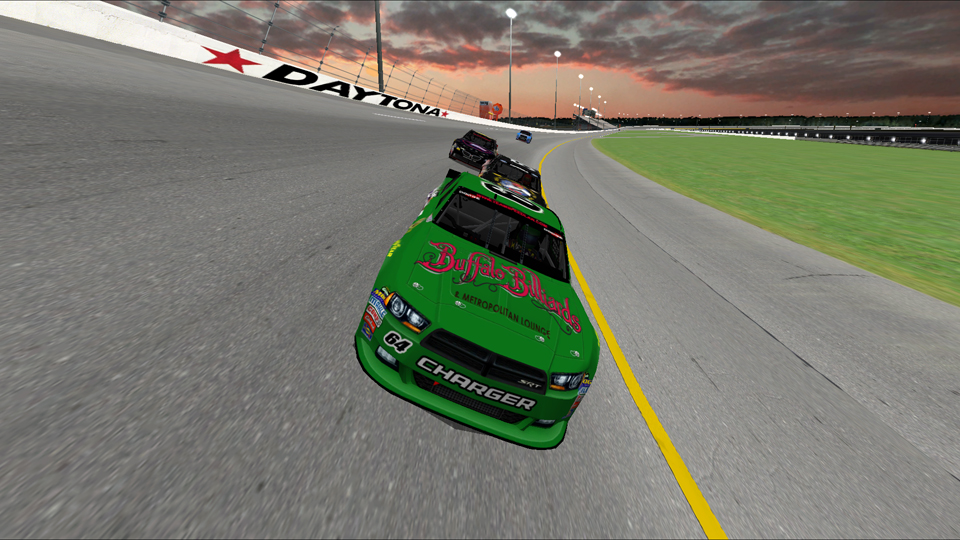 7/1/17 BOB GIBSON WINS Daytona with a power move with five laps to go. Y-Lee ends up in 3RD and Steve in 4TH.
6/25/17 Mr Smooth Wins Infineon! Y=Lee has no problems as he goes from 5TH place to the lead. Steve ends up in 3RD.
6/11/17 – Steve WINS Pocono with Y=Lee in 2ND place and Bob in 3RD. Also Steve Wins Pocono at HOBO on the 13th of 2017, against some of the fastest sim racers out there.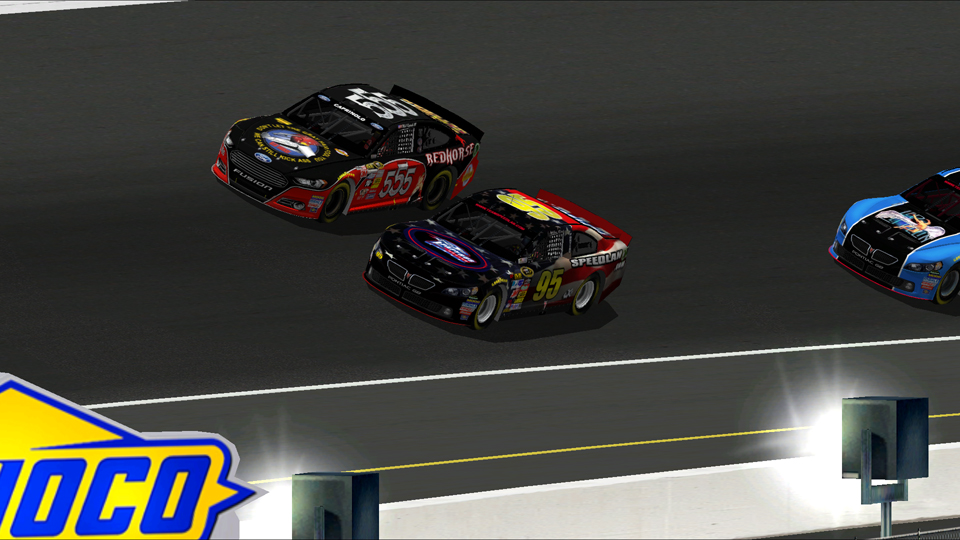 5/28/17 – Y=Lee WINS Charlotte with Randy in 2ND place.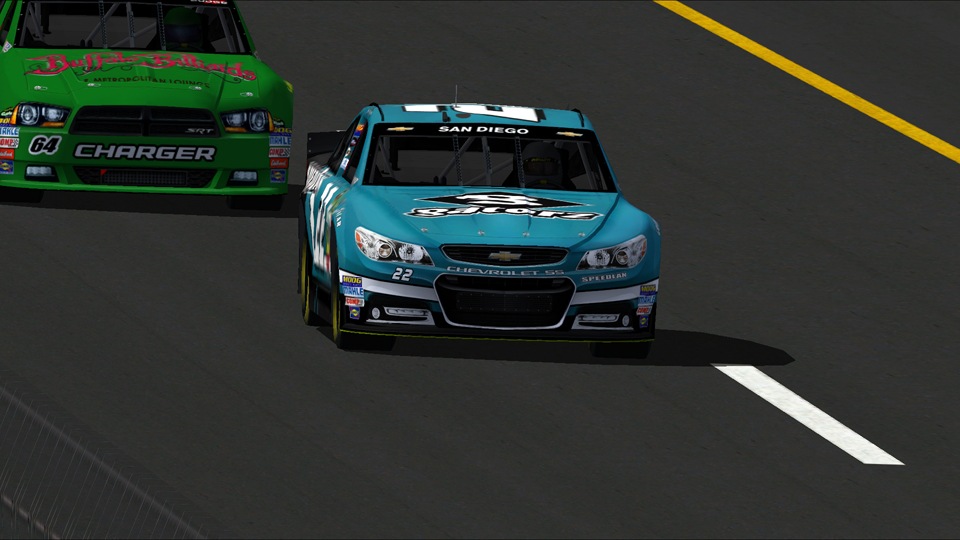 5/7/17 – JasonSD WINS Dega with BOB in 2ND place. Steve finishes in 4TH with Y-Lee in 5TH after a late wreck.
Not what you want to see at 190mph as Randy spins backwards on the front strength.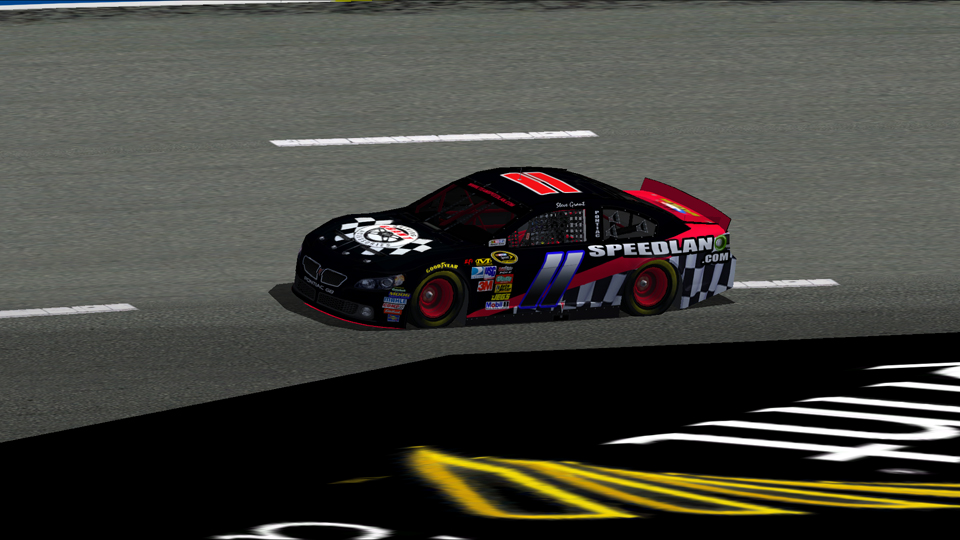 4/30/17 – Steve Wins Richmond on fuel, as JasonSD has to pit after leading 133 laps of the race. Y=Lee would finish 4TH on gas mileage too.
4/23/17 – Y-Lee gets the pole but JasonSD wins the race at Bristol. Y-Lee would finish in 2ND place after a late pit stop.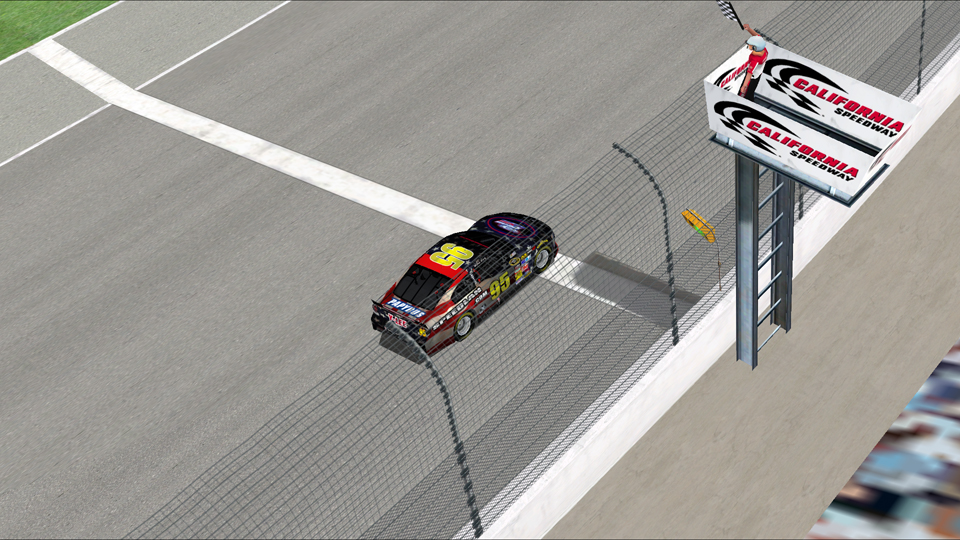 3/26/17 – Y-Lee WINS California at RB-HC by playing it cool. The rest of the team had some small mistakes and never rebounded as the race went green all the way.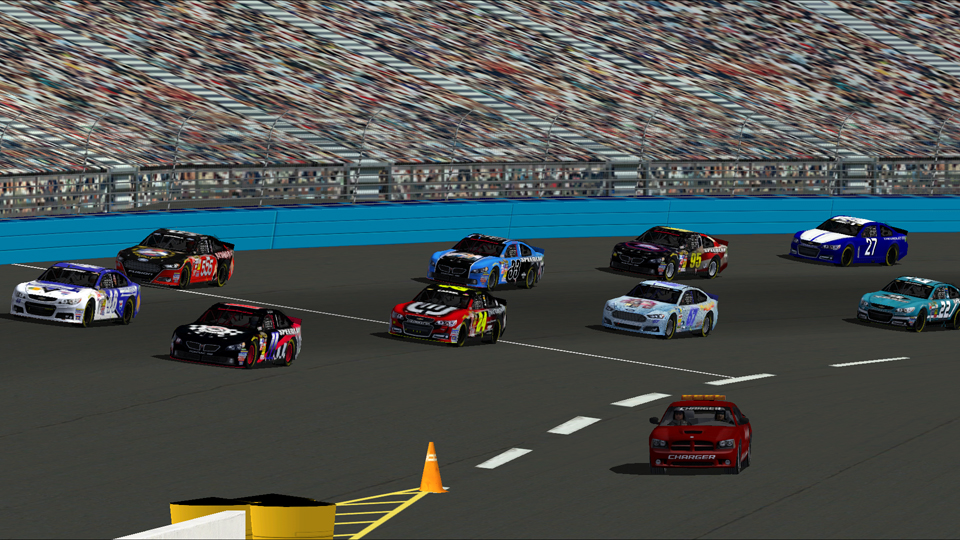 3/19/17 – Steve WINS Phoenix at RB-HC with a strong car on the long run. The rest of the team had problems getting caught up in some wrecks, and Randy losing a motor. BOB still working on his computer but hopes to make the next race at RB=HC. Randy and JasonSD didn't do to well at HOBO Phoenix race. And SPEED lost power with stormy weather and didn't make the race.
2/26/17 – Steve WINS the Daytona 500 at RB-HC racing! With the rest of the Team doing pretty good. It was good to race with all the teammates on Sunday. It was like the good
old day once again. However Steve, Randy and JasonSD didn't do as well at HOBO this year for they're Daytona race. Well on to Atlanta next week.
2/24/17 – Speed, Randy and JasonSD made it into the 500 at HOBO. Too many drivers in the League at HOBO this year.
All drivers had to Qualify to make the race. Looks like Team SpeedLan will be starting from 10TH place to 12TH place this year.
The race will be televised on DRTV on Feb 28, 2017 at 9pm DRLNewrok.com
Team SpeedLan is getting ready for the 2017 race season. We will be racing at HOBO racing and RB-HC this year.